CO2 Laser Marking Machines for Moderate to High Speed Applications
As line speeds increase to cope with more demanding production targets, manufacturers need easier, more efficient laser marking systems to print high quality permanent codes consistently on their products.
Videojet high performance CO2 laser marking machines deliver superior code quality along with reliability across a wide array of substrates including paperboard, plastic, PET, glass, coated metals. Videojet CO2 lasers can handle a variety of applications, from simple date coding to printing larger, more complex messages.
With over 30 years of laser innovation, Videojet understands the importance of product configuration to achieve your desired mark. Through a diverse combination of marking heads, lenses and wavelength options, Videojet can deliver market leading 21 spot size options to match your unique application requirements. More spot size options allow a broader range of effects from fine to thick line marking.
Videojet high performance CO2 laser portfolio
60W CO2 lasers
60W CO2 laser marking engineered to deliver high performance while minimizing coding errors
Fastest Videojet laser marking system with mark speed capability of up to 2,100 characters per second and 150,000 products per hour, ideal for high speed applications
High-speed serialization for pharmaceutical and tobacco applications, delivering unique, serialized codes
Widest marking field reduces the number of lasers that are required to cover multi-lane / wide web applications, reducing investment and running cost
High-quality, permanent codes help assure product traceability and tamper-proofing
Available in three wavelength options to best match substrate requirements
Pharma Line unit accompanied with IQ and OQ documentation that helps to fulfill GAMP 5® standards
30W CO2 lasers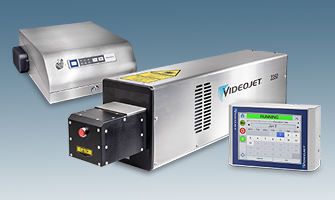 Maximum performance and extended laser source life expectancy up to 45,000 hours through optimized total power output
High-speed marking capability prints up to 2,000 characters per second of text, bar codes, graphics, and other information
Reduced manual intervention with Smart Focus marking head that delivers automated marking features
High-resolution marking head delivers high-quality and permanent codes to support product traceability and anti-counterfeiting
Multiple marking heads and wavelengths provide the flexibility to code a wide range of materials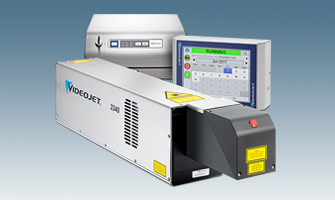 30W CO2 laser marking to deliver high performance while minimizing coding errors
Mark speed capability of up to 2,000 characters per second, ideal for high speed applications
High speed variable coding and data buffering, combined with the largest mark window in the industry, help increase throughput and performance
Integration features for fast install and set-up
Available in three wavelength options to best match substrate requirements
Pharma Line unit: Accompanied with IQ and OQ documentation that help to fulfill GAMP 5 standards
Videojet 3340 Pharma Line CO2 Laser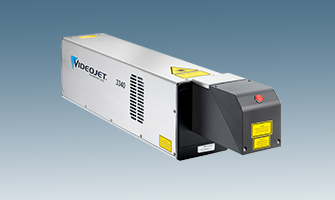 30W CO2 laser marking to deliver high performance while minimizing coding errors
Mark speed capability of up to 2,000 characters per second, ideal for high speed applications
High speed variable coding and data buffering, combined with the largest mark window in the industry, help increase throughput and performance
Integration features for fast install and set-up
Available in three wavelength options to best match substrate requirements
Pharma Line unit: Accompanied with IQ and OQ documentation that help to fulfill GAMP 5 standards
10W CO2 lasers
10W CO2 laser marking engineered to minimize coding mistakes
High performance delivers permanent crisp codes on moderate line speed applications
Line set-up wizard aids fast product changeovers, maximizing uptime
Virtually no maintenance and limited consumables
Advantages of CO2 lasers
Permanence of codes: Tamper-proof CO2 laser marks survive for the entire life of the product
High quality codes: CO2 lasers provide unique marks that can enhance product and brand perception
Low carbon footprint: With limited consumables,CO2 lasers marking technology can aid in sustainability and green initiatives
Virtually no consumables: CO2 lasers significantly reduce the cost and hassle of consumables like inks and other fluids
Less maintenance: CO2 lasers are virtually maintenance-free, leading to enhanced ease of operation
CO2 lasers provide three different wavelengths for broad substrate coverage
10.6μm: Ideally suited to most standard consumer packaged goods applications that mark paper, cardboard, various plastics, and labels as well as wood and glass products
10.2μm: Best applied to laminated cartons commonly used in many cosmetic and pharmaceutical applications. Available on Videojet 3340 and 3640 laser marking systems.
9.3μm: Specifically suited for marking on PET plastic, typical of beverage products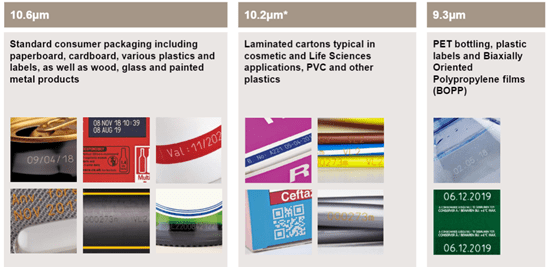 Why choose Videojet CO2 Lasers
Over 200,00 standard configurations deliver flexibility to fit your line with minimal disruptions
Customized samples and trials on your manufactured part prior to purchase
Solutions configured to your unique needs, from accessories to line integration and software