Full line of industrial continuous inkjet printers for marking and coding applications
Ideal for marking on flat or curved surfaces, continuous inkjet printer technology is a non-contact printing method that can utilize a range of continuous inkjet inks to print on almost any substrate. With over 40 years of development experience, Videojet offers a range of CIJ printers and deep application expertise to help you identify the right printing solutions for your needs. Our inkjet printers are:
Simple with the Smart Cartridge™ fluid delivery system to virtually eliminate spills and help ensure the correct fluids are being used
Easy to use with long run times between preventive maintenance
Reliable with on-board Code Assurance features to help prevent coding mistakes
A natural fit in your line with auto-cleaning printheads for fast start-ups
Print batch codes, serial numbers, barcodes, and traceability information on products and packaging with Videojet continuous inkjet printers. Videojet will help you select the ideal printers and inks for your production or packaging operation. Talk to a Videojet application expert.


High-throughput production requires uptime and availability of coding equipment. Videojet high-speed continuous inkjet printers are engineered to keep up with elevated line speeds without compromising print quality.
Even if your operation isn't running around the clock, you need optimal performance from your coding solutions. Videojet medium duty continuous inkjet printers deliver optimal performance throughout multiple production runs.
Single-shift operations demand stable performance and reliability across a broad range of operating conditions. Easy-to-operate, light duty Videojet continuous inkjet printers feature the proven Videojet printhead and fluid systems.
Your application may require an unusual configuration, pigment-based inks, ultra-high speeds or micro-print. The range of Videojet specialty printers was designed to meet the unique needs of manufacturers.
Why is Continuous inkjet printing a good choice?
Speed, ease of integration, and reliability are the main reasons manufacturers choose continuous inkjet printers.

CIJ is versatile ink-based coding technology ideal for printing on flat and curved surfaces on high-speed production lines. Optimal code formation is dependent on the substrate or material type, production speed, and product-use environment. Durable ink codes can withstand rub-off and wear over time. Choosing the right ink is imperative to ensuring that a product has a lasting code.

Why Videojet Continuous inkjet printer?
With 40-plus years of experience, Videojet is a trusted leader in CIJ printing technology. Videojet 1880, 1580, 1280 and 1000 Line printers, available with IP65 and IP66 ratings and 316 stainless steel construction, are engineered to perform in tough conditions. Performance is maximized through CleanFlow® technology that helps keep ink from building up in the printhead. Simple fluids replenishment, via needle and septum cartridges, helps avoid any ink. This combination helps keep your printer clean and running longer, even in harsh environments. And with a simple user interface with networking options, and you have simplicity that performs, and clean, consistent codes, time after time.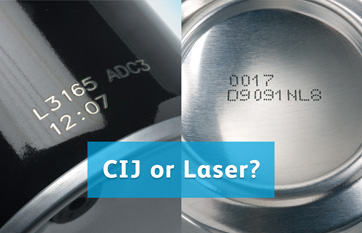 Continuous Inkjet Resources