Videojet fiber laser marking machines can help you mark codes and other information on robust, high-density materials such as metals and plastics.
Industries with demanding production schedules and increasing throughput expectations — like beverage, extrusion, and pharmaceuticals — need lasers that can keep pace and provide the appropriate level of contrast. Compared to traditional CO2 laser sources, fiber lasers can achieve better mark contrast at faster speeds.
Lasers perform without consumables, so you never have to stock ink, solvent, or ribbons. Optional mobile floor stands, beam shields, product detectors, exhaust units, encoders, mounting brackets and additional fonts are available.
Our sample lab technicians are on hand to test and validate your application. When it changes, the Videojet service team provides personalized application support for the lifetime of your laser.
Videojet 7230/7330 Fiber Laser Marking Machine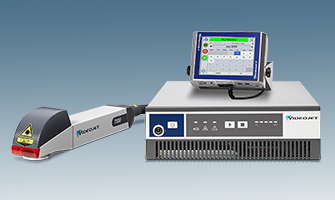 7230 10-Watt and 7330 20-Watt fiber lasers mark permanent, high-quality codes on robust, high-density materials
Light, compact, and adaptable laser marking machine offers high-speed marking with complex data, easy operability, and industry-leading integration capabilities
Designed for demanding production schedules in the parts marking, food, beverage, Consumer Packaged Goods (CPG) and pharmaceutical industries
Option of 6mm and 10mm marking heads to support a wide range of marking and coding operations
Videojet 7340/7440 Fiber Laser Marking Machine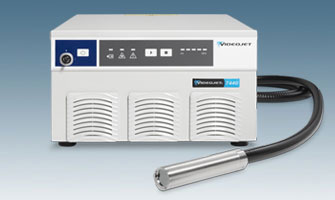 20-Watt and 30-Watt fiber lasers are the first to feature the Lightfoot™ marking head, making them easy to integrate, operate, and service.
The Lightfoot marking head is one of a kind, the smallest in the industry both in size and weight, and IP69-rated for use in washdown and harsh environments.
Designed to deliver high-quality, permanent codes for a wide range of marking applications, the 7340 and 7440 are ideal for parts-marking, food, beverage, consumer packaged goods, pharmaceutical, and cosmetics manufacturers who have space limitations, are looking for simple integrations, or perform frequent, rapid changeovers.
Videojet 7510 Fiber Laser Marking Machine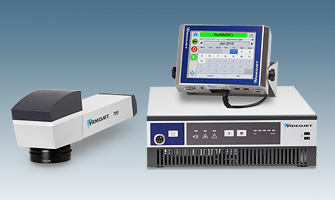 50-Watt fiber laser marking machine performs high-contrast marking at high speeds
Crisp and clear codes marked at speeds up to 600m/min (1960ft/min) on various industrial products
This laser marking machine is specifically engineered for high-speed beverage, pharmaceutical, and extrusion manufacturers marking on robust materials such as high-density polyethylene (HDPE), nylon, polyvinyl chloride (PVC), as well as aluminum and stainless-steel metal
Videojet 7610 Fiber Laser Marking Machine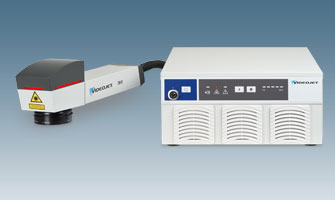 100-Watt fiber laser marking machine for high-contrast marking at high speeds
Air-cooled laser source virtually eliminates maintenance intervals
Maximum single line speed of 600m/min (1968 ft/min)
Designed with a large marking window to provide more time to mark, increasing throughput and maximizing productivity
Videojet Lightfoot™ canning solution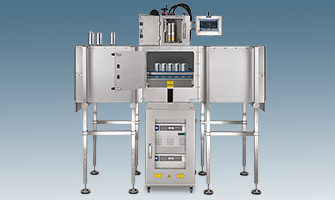 Seamlessly transition to a turnkey fiber laser system designed specifically for beverage canning
Achieves speeds up to 100k cans/hour with dual Lightfoot™ marking heads
Enables washdown without disruption with an IP65 rated system design
What are the benefits of fiber lasers?
Fiber laser marking systems operate by delivering a wavelength of 1.064 micrometers, ten times shorter than those generated by CO2 lasers. Due to this much smaller focal distance, the intensity of fiber laser system is almost 100 times higher than CO2 systems with similar power outputs, making fiber lasers ideal for coding on high-density packaging materials such as metal and plastics.
Apply high-contrast marks at ultra-fast speeds on hard plastics, metals, and other industrial products.
Virtually no maintenance and a source life expectancies up to 100,000 hours (MTBF) deliver high performance and long-lasting reliability
A range of line speeds up to 900m/min meet the demands of high-speed packaging operations
Various marking window sizes up to 498mm wide provide more time to print, increasing product throughput and maximizing productivity
What materials can be marked with fiber lasers?
Fiber lasers feature excellent power and speed, providing more available mark time to achieve the readable codes on a range of materials including:
Fiber laser marking is an ideal solution for many parts-marking, pharmaceutical, and cosmetics manufacturers. To meet the needs of food, beverage and CPG manufacturers, the Videojet range of fiber lasers has been designed to help ensure laser marks that are clearly and accurately positioned, offering code precision that does not adversely impact product aesthetics.
What are fiber laser engravers?
A fiber laser engraver uses a process of cutting through paint on a surface to make permanent marks, preventing tampering in unauthorized channels. Fiber laser engraving generally refers to deeper material removal that generates a depression in the material. Typical substrates are plastic and metal. For glass and plexiglass, there is also the option of inner engraving to remove an internal color without affecting the top layer.

Other Laser Marking Technologies
Request a sample from the Videojet sample lab and talk to our laser marking specialists to select the ideal solution. Chat or call (877) 781-7133.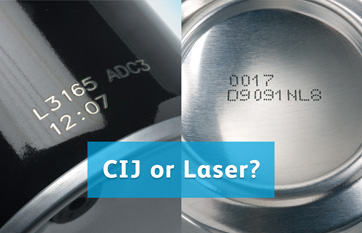 Laser Marking Machine Resources