Print on non-porous packaging materials
Dynamic packaging operations require coding solutions that deliver simplicity, flexibility, and productivity. Videojet high performance TIJ printers combine the simplicity of a cartridge-based printing system with MEK-based, industrial ink performance for non-porous substrates while eliminating complicated operation and maintenance procedures.
Sorry, but the Videojet 8610/Wolke m600 universal is no longer available – we recommend as an alternative product the Videojet 8520 and Wolke m610 advanced which will fulfill your needs. If you need any support don't hesitate to contact us.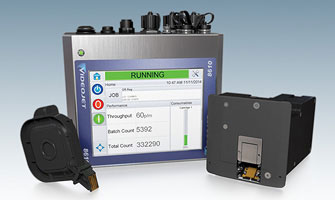 Purpose-built MEK cartridge for adhesion on a variety of non-porous substrates
Cartridge Readiness SystemTM helps provide consistent code quality
Code Assurance features minimize potential coding mistakes