Large character printing on cases
High-resolution ink-based systems deliver fast start-ups and durable codes that can withstand the distribution chain. Helping to reduce pre-printed inventory, scrap, and waste, these Videojet case coders generate real-time alphanumeric codes, bar codes and graphics on cardboard, corrugate, outer cases, and cartons.
Videojet 2351 and 2361 Inkjet
Case Coding Printers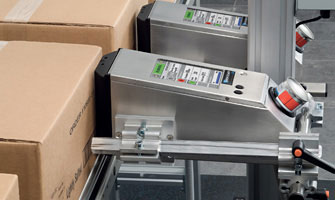 High resolution codes up to 70 mm (2.8 in) print height
Ink-based system eliminates need for labels on corrugate
Minimum intervention due to patented micro-purge process and unique filter design
You can find multiple technologies to apply code information on cases, each with its own unique considerations. While the practice of preprinting cases typically ensures a consistently readable code, it can also mean managing large, cost-carrying inventories of unique SKUs. However, with print-on-demand inkjet solutions you can enjoy the operational benefits of:
Streamlining of purchasing requirements and reduction of unique case inventory
Incorporation of dynamic production data such as lot code and date of manufacture
Reduced carryover costs, required storage space. and opportunity for waste
Increased flexibility to quickly react to changes in content and product demand
Large character ink-based systems deliver high-resolution print on-demand with consistent text, logo, and bar code quality, even over extended print runs. Thanks to the patented Videojet micro-purge process and unique return line filter that can be replaced in seconds, minimal intervention and maintenance are required.