Thermal transfer printer offering a lower total cost of ownership
The Videojet 6230 provides a proven and cost-effective solution for printing high-quality codes on flexible packaging and labels. It is ideal for users ready to migrate from a non-digital solution such as hot stamp or roller coders. For both lower speed intermittent and continuous motion flexible packaging applications, and this solution delivers maximum reliability and efficiency for printing variable, high-resolution images — at an affordable price.
Videojet 6230 Thermal Transfer Printer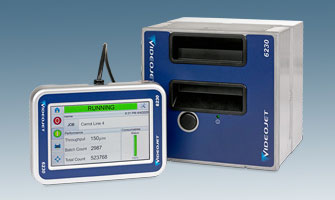 Intuitive tablet-like 5" touchscreen controller with CLARiTY™ interface used in other Videojet technologies
Simple cassette design holds 700m maximum of ribbon to allow for longer runs, and offers a safer and easier way to replenish ribbon, with minimal impact to production
Code assurance comes as standard when using templates created by CLARiSOFT™ or VideojetConnect Design software
Available with Bluetooth®* capability, allowing printer control via the Videojet 6230 App on an Android device**, rather than a HMI.
* A Bluetooth USB Adapter is required when using the Videojet 6230 App. The Videojet 6230 printer is warranted to work with the recommended Videojet Bluetooth USB Adapter only. ** The Videojet 6230 App supports Android OS, Version 4.4.4 (KitKat) or higher. The Android phone is required to allow Bluetooth tethering when using the Videojet 6230 App.