On vertical bag packaging machines, the rolls of plastic film are stretched over a forming tube and fed down through the machine before or during filling.
On horizontal tubular bag form fill and seal machines, the packaging material is formed with a special tool, after which it moves through the machine to be filled and immediately sealed and positioned horizontally.
The tubular bag packaging machine automatically collects individual, pre-made bags from the bag stock, stretches them and transfers them to the filling station. On exit from the filling station, the bag is then transferred to the sealing station.
Tubular bag packaging machines are mainly used for use in manufacturing plants. The use of these machines enables a diverse range of products to be packed in tubular bags. These are supplied in tubular form packaging, which can be opened, filled and then sealed inside the machine. Individual filled packs are obtained from a continuous feed of a single tube. Modern tubular bag packaging machines have a very high output capacity and can be used without interruptions, even on changeover of the packaging roll. This helps ensure a very high degree of efficiency.
Related Articles
Suggested Solutions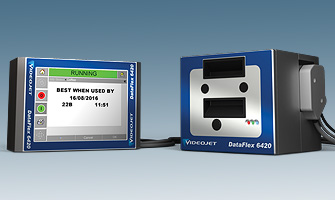 When uptime, high performance and throughput are critical, the Videojet DataFlex 6420 industrial thermal transfer printer provides high speed printing for flexible packaging applications.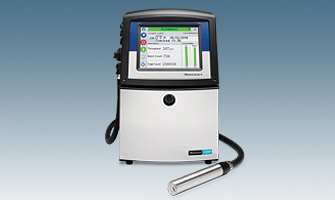 The Videojet 1650 continuous inkjet printer is engineered for more demanding coding and marking applications where a combination of speed and throughput require a high utilisation solution.
Case Study
Zeppelin Systems Case Study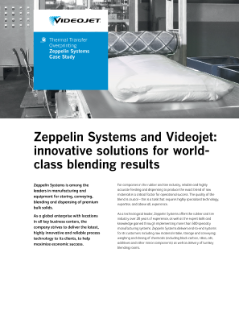 Zeppelin Systems uses PE, PP and EVA bags that are formed from pre-fabricated, perforated tubular film, with the bottom seam of each bag being pre-sealed. After printing, the operator takes the bags and places them in a transport container, where they are kept open. This cycle takes around 30 to 40 seconds. Using roller and chain conveyors, the bag is taken to the individual dosing stations that hold between 20 and 30 individual chemicals within one plant.
With technology experts from Videojet, a solution for this design specification was developed: A Thermal Transfer Overprinter (TTO) was selected by Zeppelin to accurately mark the bag with a bar code and the date and time, as well as with the formulation used. Learn more….