The argument for upgrading from analog hot stamp printing to digital thermal transfer overprinting technology for flexible packaging
Thermal transfer overprinting (TTO) and hot stamp printing can both be used to print codes on films, labels, and other flexible substrates typically used to produce consumer-goods packaging. Also called thermal transfer coding, thermal transfer overprinter uses a 300-dpi thermal printhead and thermal transfer ribbon. The digital, programmable thermal transfer printing system heats thermal pixels on the printhead to transfer pigment from the ribbon to the substrate.
Thermal printing machines are well suited to printing high-resolution codes containing variable data, including time stamps and unique package codes. The capital investment in a thermal transfer overprinting system is typically higher than for a hot stamp printer, but operating costs are lower with TTO, resulting in lower overall costs for the life of the TTO printer.
A hot stamp coder or printer is an analog machine that works like an old-fashioned printing press. An operator manually sets metal dies, or type, which are then heated. The heated type presses on an inked ribbon that's positioned between the type and the substrate, melting the ink onto the substrate.
Hot stamp printers can print static (non-variable) information such as lot codes or expiration dates. These machines are known for their durability and low initial cost.

Shifts in package-coding requirements
The increase in regulations requiring traceability for foods and pharmaceuticals, along with an upsurge in product counterfeiting and diversion, are driving brand owners to incorporate variable, real-time data on their packaging. Historically, hot stamp machines were sufficient for package coding, but evolving business requirements are stoking demand for digital solutions.

The best technology for the job
Using a digital printing solution enables variable coding and real-time data. This information may take the form of dynamic 2D bar codes, serialized numbers, or other unique identifiers that help brand owners track their products through manufacturing and the distribution chain.
Thermal transfer printers deliver higher print quality than hot stamp machines, and current models allow for connectivity, enabling central monitoring and control.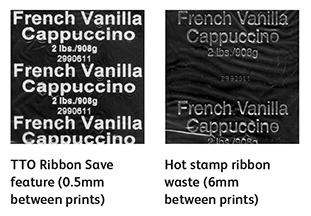 Effect on production efficiency
Operational objectives—such as cutting costs, minimizing downtime, and reducing coding errors—also strongly influence the choice of coding solutions. For many brand owners and contract packagers, switching from hot stamp printing to thermal transfer overprinter makes it possible to achieve such production goals and also enjoy an outstanding return on investment (ROI).
Every application has its own unique requirements, so it's best to fully evaluate the fit between printer technology and printing application when considering a printer purchase.