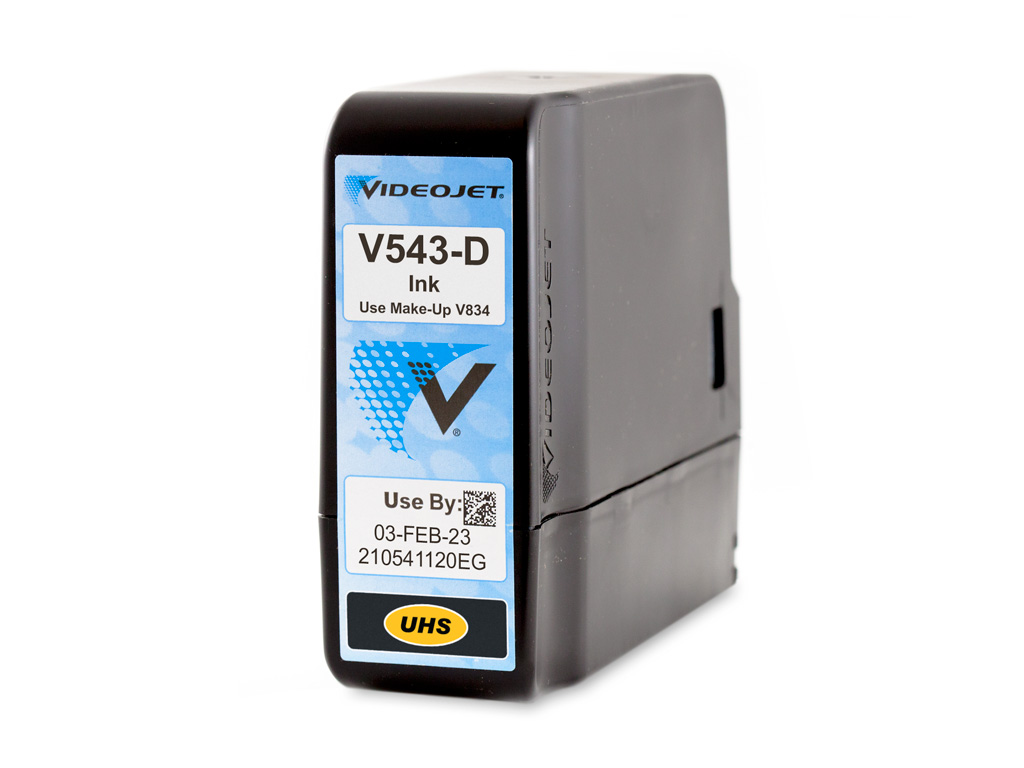 V543 is a wetness-indicating/washable Blue Ethanol ink qualified for use in the Videojet 1000 Line UHS continuous inkjet (CIJ) printers. This ink becomes invisible when exposed to water or other water-based liquids. It is primarily used as a visual wetness indicator.
Benefits of V543-D
iQMark™ low odor ink offering:
Low odor ethanol solvent base
No MEK, no acetone, no methanol
Cosmetic grade – approved for skin contact
No European Printing Ink Association (EuPIA) Exclusion List materials
No CMR's (Carcinogens, Mutagens, Reproductive Toxins)
Manufactured using food grade materials and industry standard Good Manufacturing Practices (GMP)
Water soluble – easily removed using plain water or other water-based liquids
Resistant to acetone, gasoline, Mil Spec Solvent C, mineral spirits, and oils
Successor to legacy ink formulas 16-9400
Applications for V543-D
V543 is ideal for coding on personal care products. It is used as a wetness indicator on absorbent diaper and incontinence products. The ink dissolves completely when exposed to water or water-based fluids.

Secondary Applications include marks/codes intended for temporary in-plant batch or lot identification onto trays or batch containers that require very easy removal using a simple water solution. Other similar "removal" inks exist, but they all require water-based caustic or light soap solutions.
iQMark™: V543-D ink was responsibly designed and manufactured to maximize contrast, adhesion, and uptime while meeting safety, environmental, and regulatory requirements. Every batch is tested to ensure it meets strict quality control specifications.