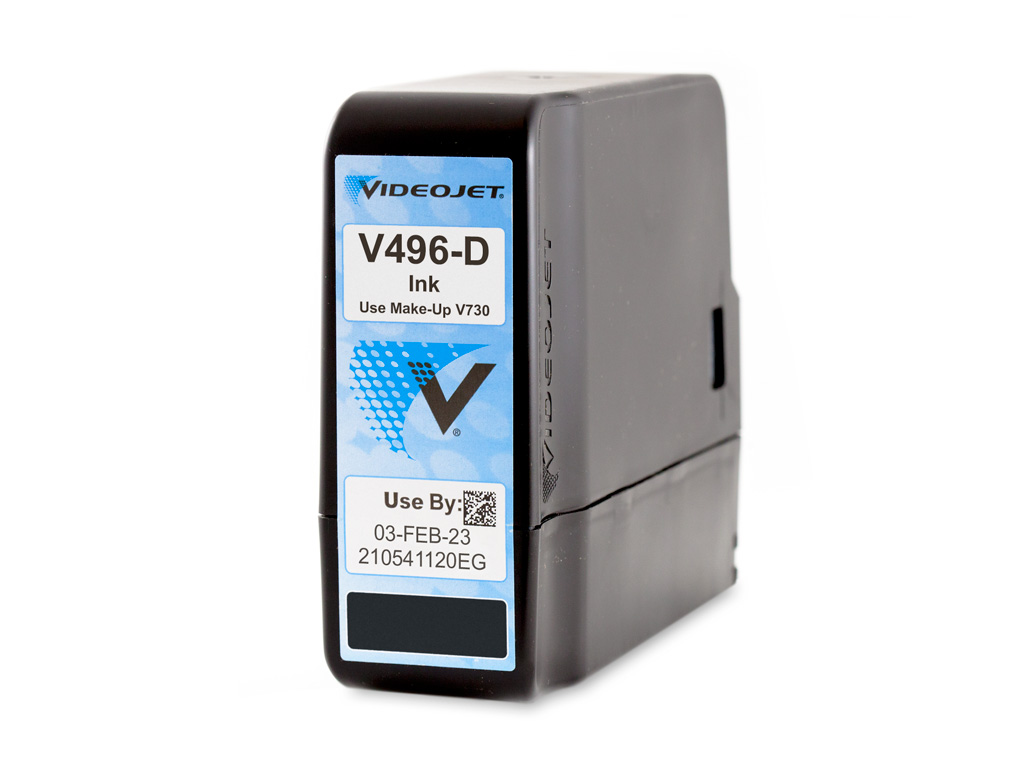 V496 is a blue, ethanol-based ink qualified for use in the Videojet 1000 Line food grade continuous inkjet printers. Increased consumer sensitivity, compliance regulations (e.g., country of origin, supply chain tracking), and product liability concerning food traceability are driving new variable coding onto food packaging. This ink provides food grade quality codes in a variety of food contact applications.
Benefits of V496-D
Food grade
Ink maintains food grade integrity in food contact and direct-to-food applications
Adhesion to non-porous packaging
Acceptable adhesion and dry time on a variety of plastic films and coated papers that is not possible with certain water-based inks
Blue color
Good contrast on lighter colored background substrates
Can be used as an alternative color when a blue color is preferred over red V495-D ink
Successor to legacy ink formulas 16-9000
Applications for V496-D
Food Contact – Food product and package codes sometimes come into direct contact with food. Examples include production codes on flavoring pouches inserted into dry soup or noodle boxes, codes printed on food preparation instructions, or coupons inserted into packages containing dry prepared foods. Customers often want assurances that their ink codes have the same food grade integrity as the package contents.

Food Packaging – Sometimes outer packages or containers are simply not able to provide an adequate barrier between the ink code and the contents. Examples include codes on paper-based (porous) tea bag pouches, paper sugar bags, coffee, and other dry good bags. The barrier might also be ventilated or perforated, such as film that covers a microwavable food tray.

Direct application on food – Certain regions indicate a preference for eggshell coding with a blue color ink over red (i.e., V495-D ink). It is also possible to direct code onto pills and capsules, if the substrate permits.
iQMark™: V496-D ink was responsibly designed and manufactured to maximize contrast, adhesion, and uptime while meeting safety, environmental, and regulatory requirements. Every batch is tested to ensure it meets strict quality control specifications.
Get Supplies Support
Technical Support:
(833) 760-0609 Press 2
FluidsSupport@videojet.com Order Supplies:
(833) 760-0609 Press 1 New Equipment Sales:
Related Printers
Related Make-Up and Cleaner