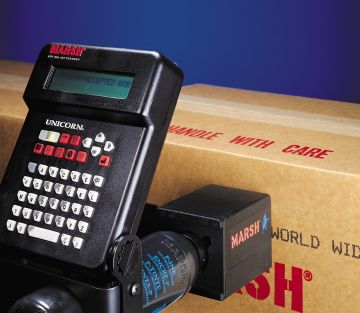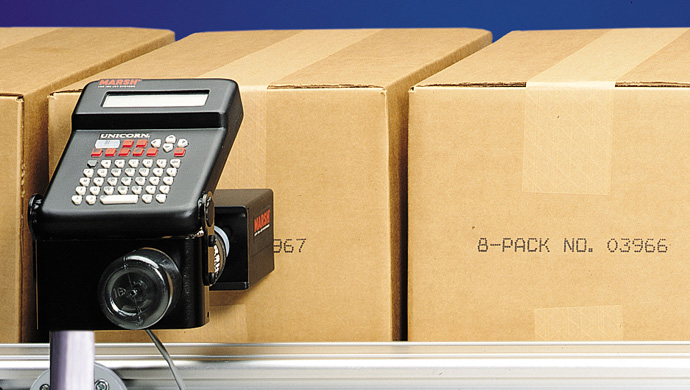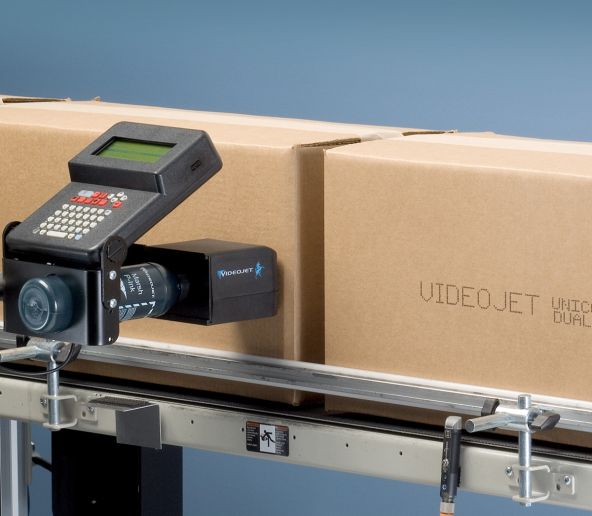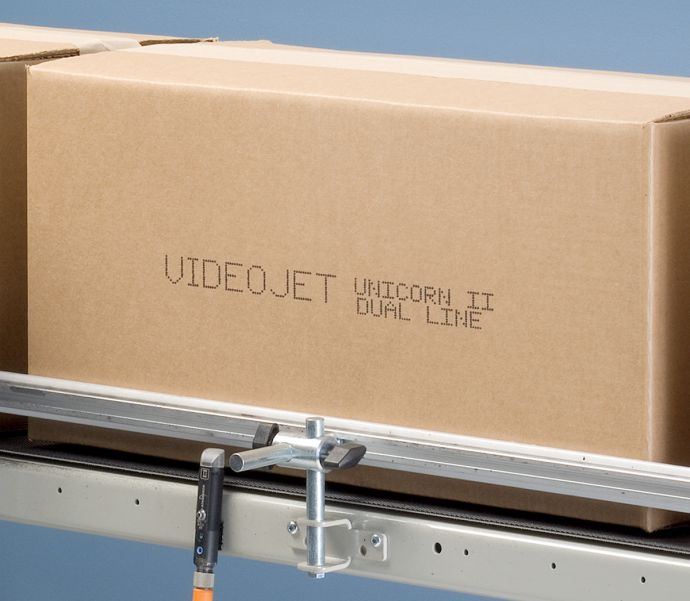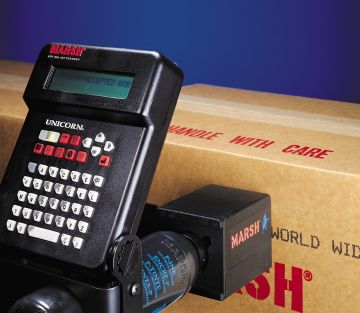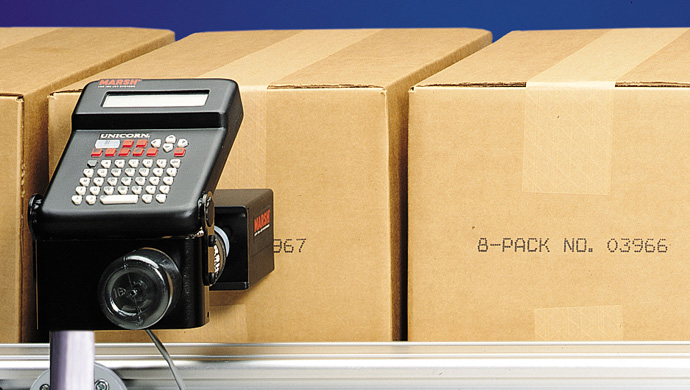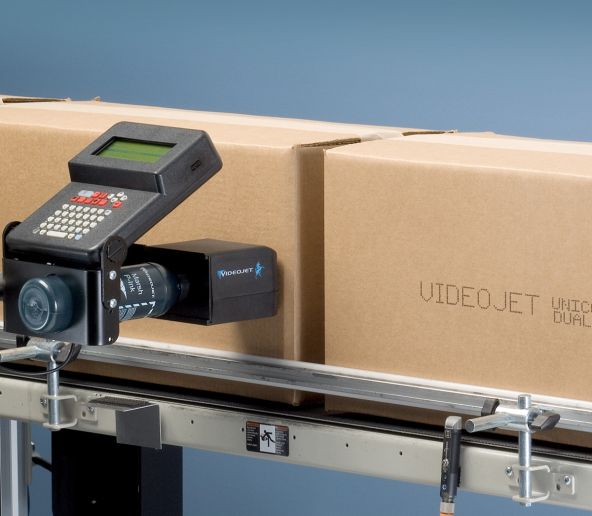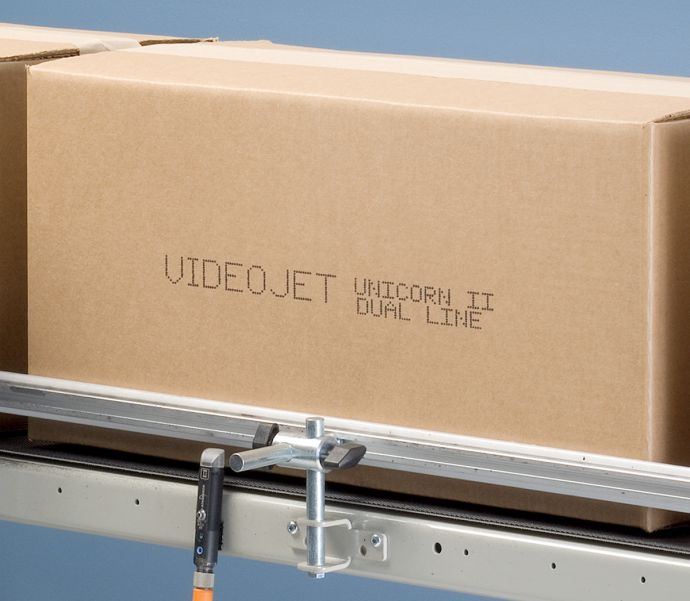 Also see:
Unicorn and Unicorn II
Large character marking (LCM) system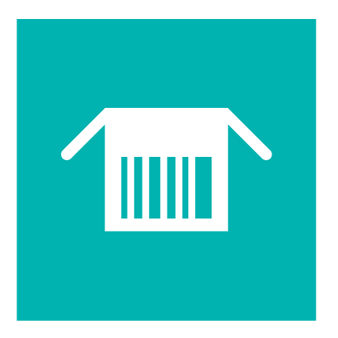 The Unicorn product family is a compact complete solution for single and dual line case coding. It is designed for customers who value quick set-up without technical intervention. One box contains everything needed to start printing today.
Specs
Specification

Unicorn
Unicorn II
Printer Speed
6.1 to 61 m/min (20 – 200 ft/min)
6.1 to 61 m/min (20 – 200 ft/min)
Message Lengths
Up to 40 characters
Up to one 40 character row of 16 dot font
Or two 80 character row of 7 dot font
Message Storage Capacity
52 messages
40 messages
Ink
0.23 L (8 fl oz) non-aerosol ink bottle
0.23 L (8 fl oz) non-aerosol ink bottle
18.9 L (5 gallon) bulk ink option
Download full spec sheet, Unicorn and Unicorn II
Benefits
Compact, self-contained design makes coding easy:
Quick and simple integration; out of the box and on the job in minutes
Includes a standalone bracket minimizing hardware integration needs
Built-in photocells detect production direction and speed for simple integration
Menu-driven controller to create and edit messages
Unicorn offers the most economical case coding solution:
Low acquisition cost to deliver on-demand case coding to nearly all simple applications
Low consumable cost keeps per item coding cost low for profitable operations
Optional bulk ink supply further reduces consumable costs and extends time between ink reloads for more efficient operation
Rich features enable broad application coverage:
Choice of single (Unicorn) and single/dual line (Unicorn II) coding
Customized time, date and count codes including best before/best by date which automatically update for minimal operator interaction
Universal voltage and built-in language selection for global use
Stores messages in the controller for instant recall to reduce time to complete line change over
"The Videojet printers easily integrate with our processes because they are durable, reliable and easy to use, even when we run them 24 hours per day, up to six days per week."
Bob Manzer – Plant Manager, Kettle Foods (case study)
"Crisp, clear codes are important to both our company and our distributors for tracking and tracing, warehousing and inventory, reordering, billing, and order fulfillment. It's all interrelated. Today, that's how companies identify the product, store it, inventory, pick and verify orders, ship and bill. Clear codes set the tone for the entire supply chain process."
Jim Trivelis – President, The Original Philadelphia Cheesesteak Co. (case study)
"The automatic micro-purge system is really quite ingenious: no more non-productive downtime for cleaning!"
Jean-Christophe Bourgeois, Winery Manager Henri Bourgeois (case study)
Applications
Corrugate – Direct Marking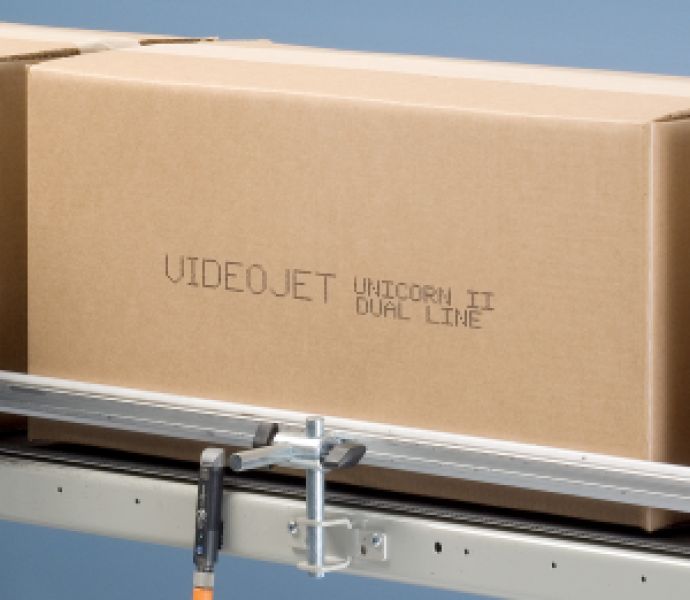 Alpha-numeric code on brown corrugate box.
Related Products
Videojet 2351 and 2361 Inkjet
Case Coding Printers

Videojet Unicorn Inkjet
Case Coding Printer

Max Line Speed (m/min)
132
61
Max Print Area H x L (mm)
53 x 2000, 70 x 2000
20 x 160, 48 x 160
Code Type
Line Location
Product Marking, Case Marking
Product Marking, Case Marking
Applications
Corrugate – Direct Marking
Wood and Lumber
Corrugate – Direct Marking
Wood and Lumber
Contact Us
Let Us Find the Right Solution for Your Business
A Coding Expert will contact you within 1 business day
Need help? We're here for you.
New Equipment Sales & Quotes


: (866) 871-3226


: inboxusa@videojet.com
Service & Tech Support


: (800) 843-3610 Opt #2
Customer Service (United States)


: (800) 843-3610 Opt #1


: vti.domesticcs@videojet.com
Customer Service (Canada)


: (877) 225-2241 Opt #1


: vti.canadacs@videojet.com
---
Quick Links:
Global Offices
Sales and Distributor Search