GAMP is a set of guidelines and principles for manufacturers of automated systems in the pharmaceutical industry developed by the ISPE (International Society for Pharmaceutical Engineering). It provides pragmatic and practical industry guidance to achieve compliant computerized systems fit for intended use in an efficient and effective way. GAMP is first and foremost designed to ensure the quality of products.
Videojet actively helps pharmaceutical customers to comply with GAMP by commenting on the user requirement specification (URS) and providing standardized IQ and OQ documentation. If our standard Videojet printer needs additional features or upgrades to satisfy the URS, the Pharma Line team will help to develop any additional features and customize the IQ and OQ accordingly.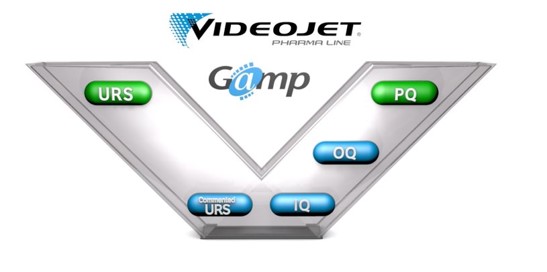 Installation Qualification (IQ)​
The IQ ensures that the printer has been delivered and installed correctly in accordance with the specifications, and that the complete and correct documentation is available.
Operational Qualification (OQ)
The OQ is provided by tests that the printer works as specified in the commented user requirement specification, i.e., the operating and display elements function as planned​, the printer reacts to operational failures and errors in the process as intended​.
Our pharmaceutical and medical device customers benefit from:
Time savings: Videojet assumes the time-consuming creation of IQ/OQ documentation for you
Expert knowledge: The experienced Videojet Pharma Line experts know the printer best and will help you executing IQ/OQ on demand
Guidance: Predefined questions and sequences in the IQ/OQ from Videojet provide assistance and avoid errors in execution