Print & Apply Labeler with Intelligent MotionTM Videojet® 9550 Specification Sheet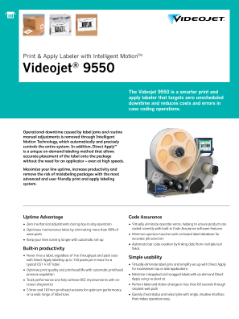 Achieve high resolution printing of text and bar codes with Videojet Print & Apply solutions.
The Videojet 9550 is a smarter print and apply labeler that targets zero unscheduled downtime and reduces costs and errors in case coding operations.
Operational downtime caused by label jams and routine manual adjustments is removed through Intelligent Motion Technology, which automatically and precisely controls the entire system. In addition, Direct Apply™ is a unique on-demand labeling method that allows accurate placement of the label onto the package without the need for an applicator – even at high speeds.
Maximize your line uptime, increase productivity and remove the risk of mislabeling packages with the most advanced and user friendly print and apply labeling system.
Back to Hub