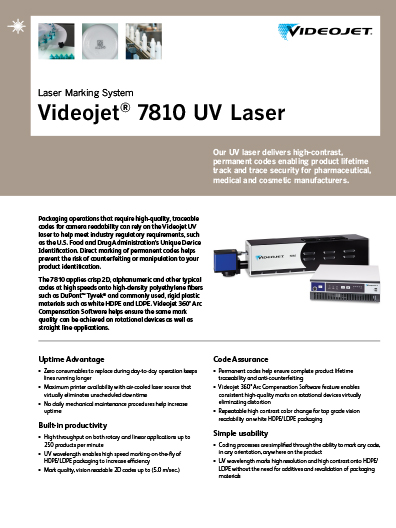 Mark permanent, high-contrast codes with Videojet laser marking solutions
Our UV laser delivers high-contrast, permanent codes enabling product lifetime track and trace security for pharmaceutical, medical and cosmetic manufacturers.
Packaging operations that require high-quality, traceable codes for camera readability can rely on the Videojet UV laser to help meet industry regulatory requirements, such as the U.S. Food and Drug Administration's Unique Device Identification. Direct marking of permanent codes helps prevent the risk of counterfeiting or manipulation to your product identification.
The 7810 applies crisp 2D, alphanumeric and other typical codes at high speeds onto high-density polyethylene fibers such as DuPont™ Tyvek® and commonly used, rigid plastic materials such as white HDPE and LDPE.
Back to Hub