Recent Press Release
VIDEOJET® Introduces Three New Inks Specifically Designed for Its Newest Line of Ultra High Speed (UHS) Continuous inkjet Printers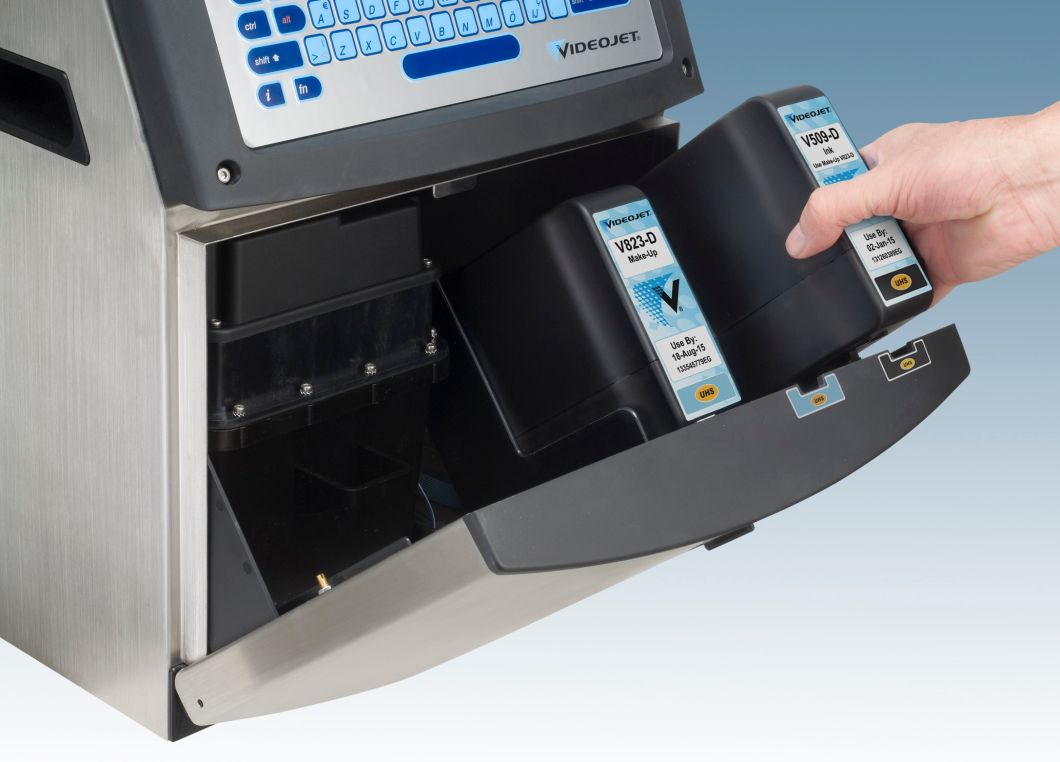 VIDEOJET® Introduces Three New Inks Specifically Designed for Its Newest Line of Ultra High Speed (UHS) Continuous inkjet Printers
Videojet to spotlight UHS technology at PackExpo 2013 in Las Vegas
Wood Dale, Ill—September 23, 2013 — Videojet Technologies Inc., a world-leading manufacturer of coding, marking, and printing products, today announced three new Ultra High Speed (UHS) inks for its line of UHS continuous inkjet printers. These new inks – V516-D, V517-D and V530-D – join a family of ten other UHS compatible inks that have been extensively tested across a broad range of print speeds and environmental condition extremes. Designed for optimal drop formation, Videojet UHS inks are held to the highest quality control standards, which means customers can experience top print quality at the highest speeds.
"We are pleased to announce three new UHS inks at Pack Expo 2013 where we are showing our recently released Videojet 1620 and 1650 UHS continuous inkjet printers. We developed the UHS inks to provide exceptional coding quality that our high speed application customers have come to rely on," said John Kirschner, Videojet supplies business manager. "Our family of UHS inks continues to grow with the addition of these three new inks – each specially engineered for unique coding applications."
V516-D Black Retort-Resistance Ink
Designed for better code durability, this black, non-color changing retortable ink can withstand tough high-temperature steam/water bath processes commonly used in cooking prepared food containers after filling and sealing. Foods such as vegetables, beans and baby foods requiring a retort process are cooked in a variety of containers such as metal cans and foil/plastic pouches. Challenges to ink survivability come from these foods undergoing high-temperature, high-moisture cooking processes, as well as being stacked throughout this process where codes come into contact with other containers. Typically dry in one to two seconds, V516-D ink provides manufacturers and retailers with easy-to-read codes and improved adhesion, particularly on formed aluminum and metal alloy cans.
V517-D MEK-free, Thermochromic Ink
Videojet's V517-D thermochromic ink changes from black to blue when coding onto heat-processed food containers made of a variety of metal, plastic and glass substrates. This ink provides good durability as well as superior adhesion through the rigorous cooking/retort process. Additionally, V517-D can serve as a general purpose black ink for food and pharmaceutical applications. Low solvent volatility of the ink and its associated make-up fluid means V517-D can offer a low total cost of ownership through lower make-up consumption.
V530-D MEK-free, Fast Dry General Purpose Black Ink
With excellent adhesion on plastics, metals, paper, wood, ceramic and glass, V530-D is a patented high performance ink that comes in an environmentally-friendly MEK-free formula. V530-D is specially designed for printing onto various hard-to-code plastics such as untreated polyethylene and polypropylene substrates typically found in the food packaging industry. Ideal for high speed production lines that require a fast dry time, V530-D can also endure cold temperatures resulting from storage in commercial freezers and refrigerators. It can withstand abrasions caused by product-to-product contact during stacking and production line transport.
For more information on these new UHS inks and Videojet's UHS continuous inkjet printers, please call (833) 760-0609 or visit www.videojet.com.
# # #
About Videojet
Videojet Technologies Inc. is a world-leading manufacturer of coding, printing and laser marking products, fluids, and accessories for the product identification industry. As experts in continuous inkjet (CIJ), thermal inkjet (TIJ), case coding, thermal transfer overprinting (TTO), and laser marking technologies, Videojet has more than 325,000 units installed worldwide. Sales, service, training, administrative and application support is provided by direct operations worldwide, including Austria, Brazil, Canada, Chile, China, France, Germany, India, Ireland, Italy, Japan, Korea, Mexico, the Netherlands, Poland, Portugal, Russia, Singapore, Spain, Switzerland, Turkey and the United Kingdom, with more than 250 direct sales and service personnel in the United States alone. Videojet's distribution network includes more than 175 distributors and OEMs, serving 135 countries.
©2013 Videojet Technologies Inc. All rights reserved. Videojet and Uptime Peace of Mind are registered trademarks of Videojet Technologies Inc.
Contact Videojet Technologies
New Equipment Sales:
(866) 871-3226

Service & Support:
(833) 760-0609


For additional information, contact:
Additional Resources